MOBILE AND STATIONARY PLANTS
FOR ZERO EMISSION RECYCLING AND DISPOSAL OF HOUSEHOLD AND HAZARDOUS WASTE WITH THE FURTHER ELECTRICITY GENERATION
The hydrogen plasma incinerator is an innovative plasma-chemical station mobile or stationary system for utilization and neutralization of household, industrial and organic, chemically hazardous, medical and biological waste of high hazard classes with almost zero emission! The system allows processing and disposing of unsorted waste locally, directly at the production site or at the waste storage sites. This saves money on both transportation and transfer of waste disposal to third parties.
INNOVATIVE
HIGH-TEMPERATURE HYDROGEN PLASMA VORTEX DESTRUCTING THERMAL REACTOR WITH THE POWER GENERATING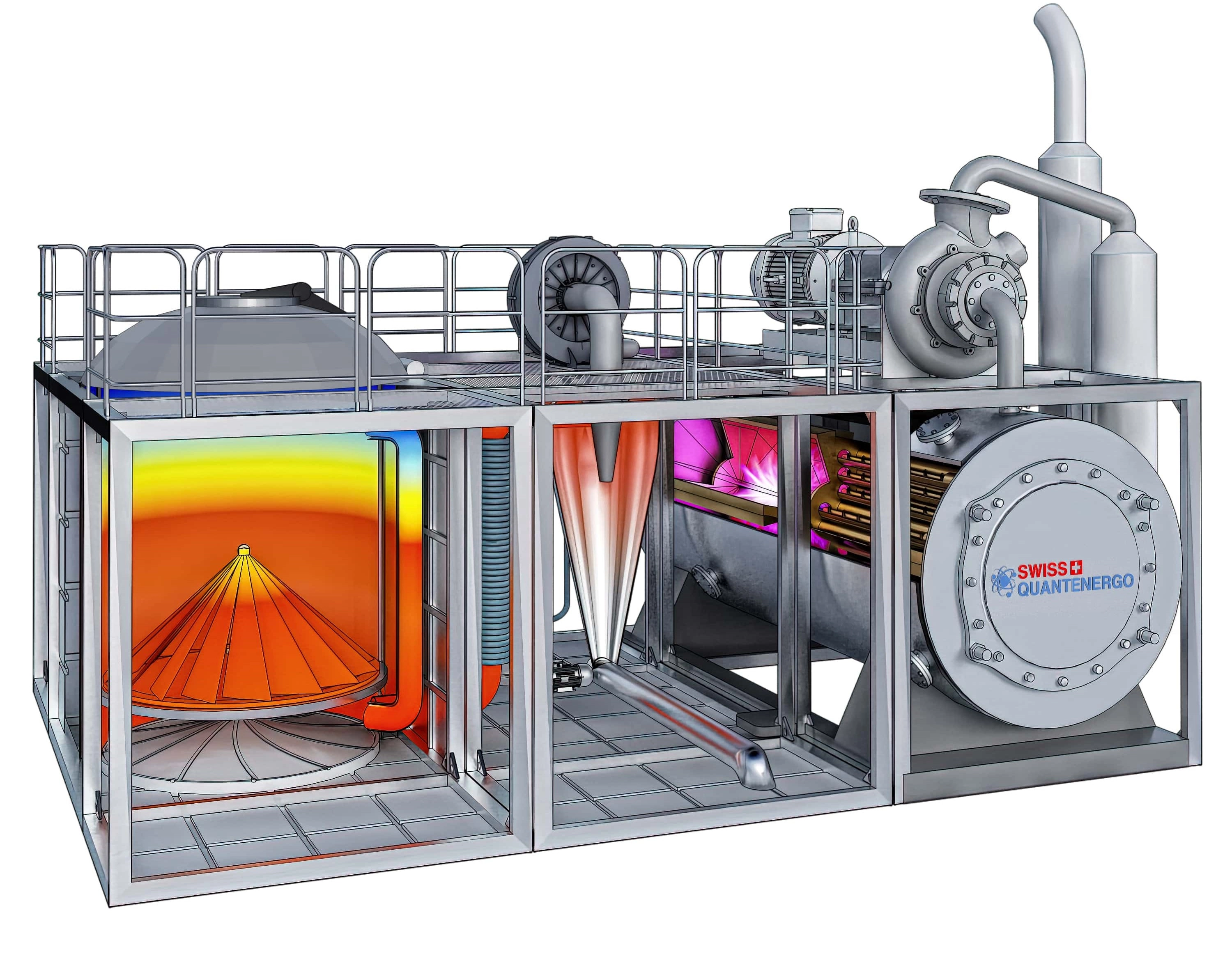 The latest innovative modification of the

Plasma Destruction Reactor (PDR)

is

Power

Generating series (PG)

Plasma-chemical module model consists of an additional module of a steam boiler, steam conversion, a steam turbine, a gearbox, a steam generator for generating high-pressure superheated steam, an electric generator for generating electricity, an electric automation system unit and a converter.
In an additional steam boiler module, secondary afterburning of the gas emission of combustion products from the plasma- chemical thermal destructor – incinerator occurs by introducing steam-hydrogen fuel into the combustion zone of the boiler;
there is also partial or complete recovery of gas-smoke emissions without the use of atmospheric air, additionally saturated water vapor passing in a vortex flow through a high- voltage high-frequency module and this results in a high degree of purification of gas- smoke emissions and additional thermal energy.
WASTE-TO-ENERGY ECO INCINERATOR PLANT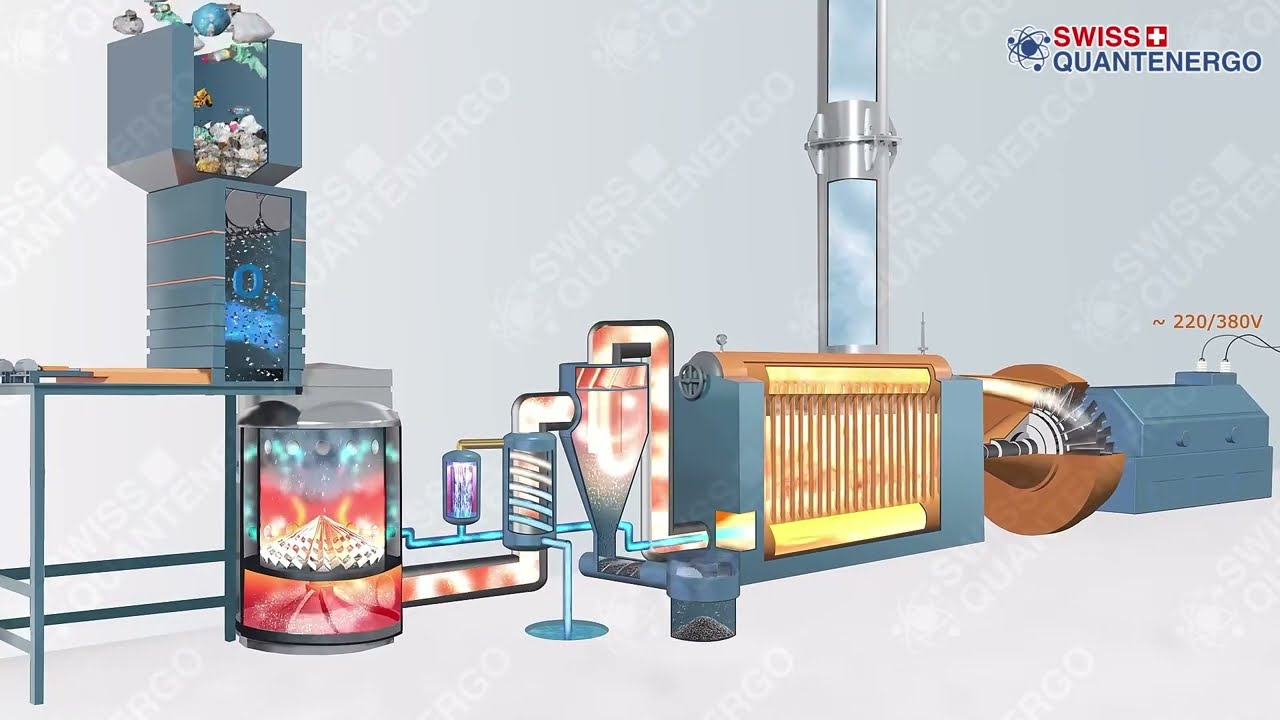 FUNCTIONAL SCHEME OF DESTRUCTION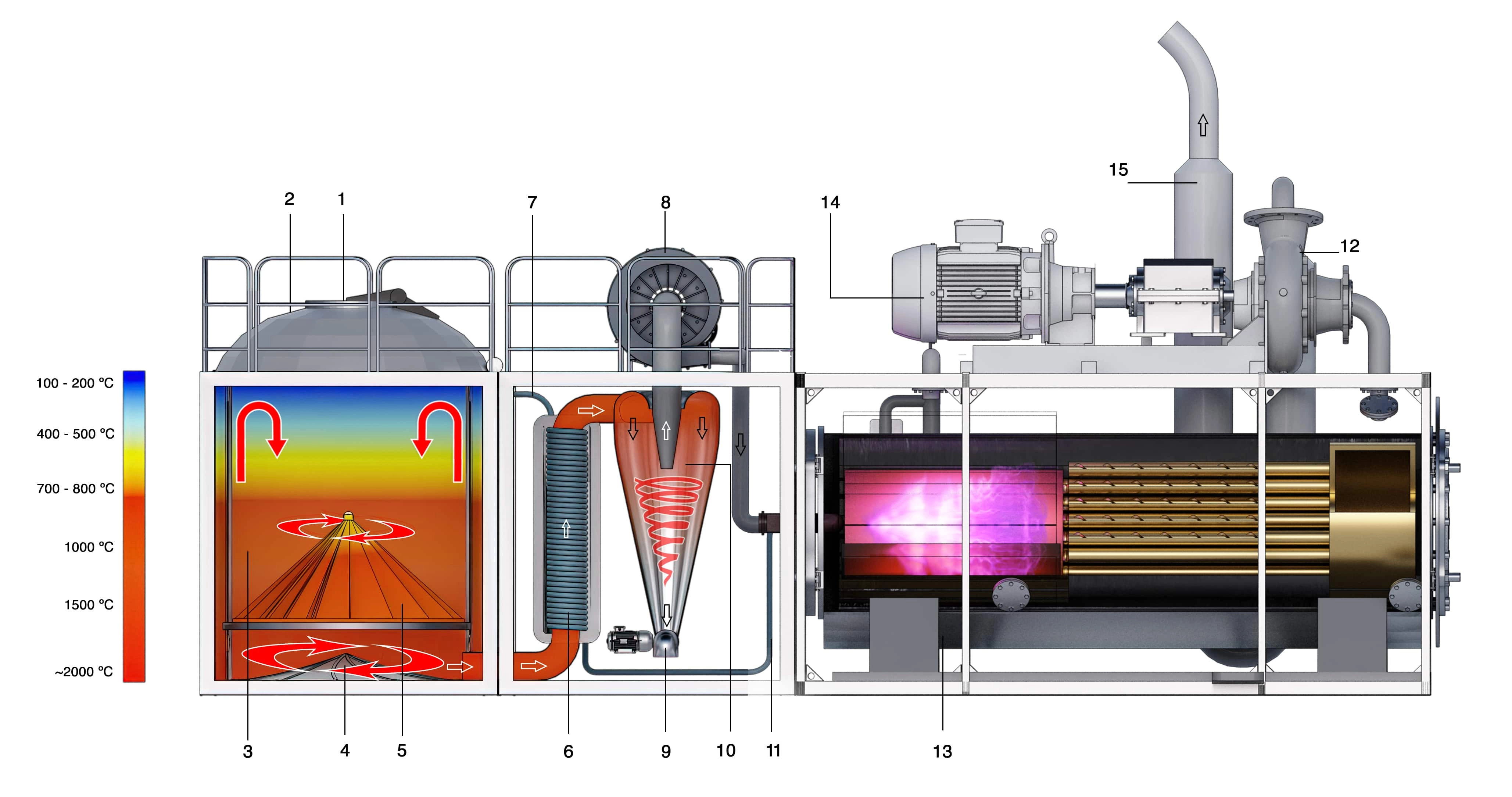 1. Raw material loading hatch
2. Spherical dome of the loading lid
3. Plasma boiling layer zone
4. Slag swirler
5. Grate swirler of the combustion zone
6. Steam - hydrogen converter
7. Steam - hydrogen mixture supply pipe
8. Turbine
9. Solids auger
8. Turbine
9. Solids auger
10. Cyclone
11. Steam-hydrogen mixture supply pipe
12. Steam turbine
13. Steam boiler for afterburning gases
14. Electric-current generator
15. Gas cooler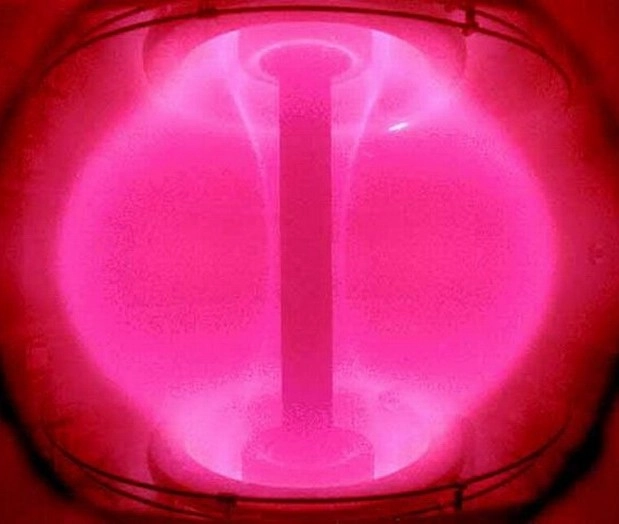 Hydrogen Plasma Vortex Reaction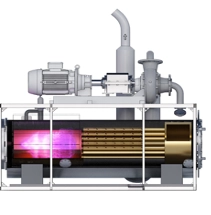 Plasma Steam Boiler and Power Station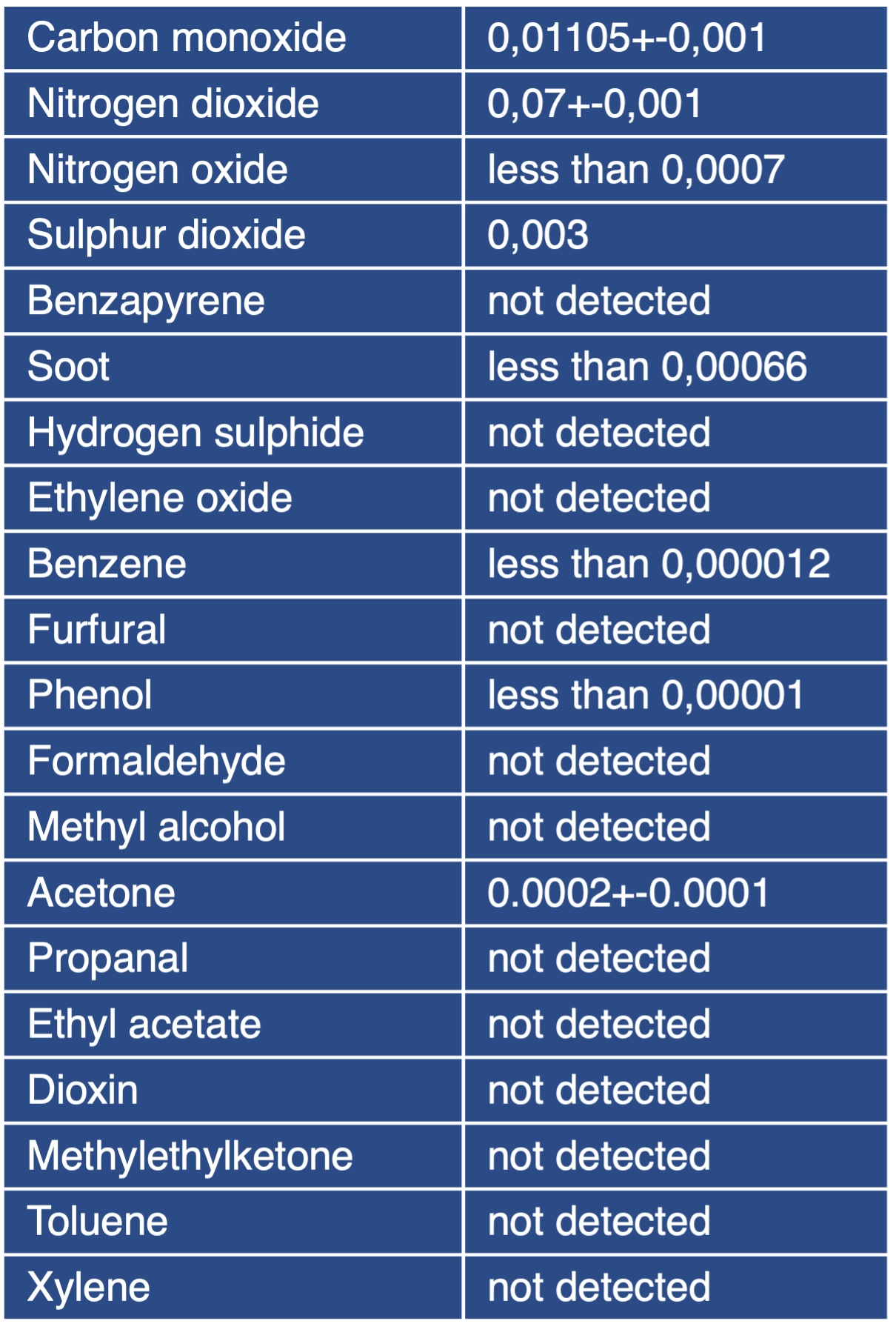 Achieved the following exhaust gas reductions
Incinerators of the Plasma Destruction Reactor (PDR) series are prefabricated full-readiness units and are designed for utilization and neutralization of high-class waste. For the operation of the PDR, only a stable source of current with voltage of 380 V is required. If thermal emission energy is further used to produce electricity, the PDR feeds itself. It does not require external power supplies.
A distinctive feature of plasma-chemical incinerators of PDR series is the increased productivity of the units combined with good mobility: assembly / disassembly is carried out within 2 hours, the components of the incinerator are placed on one flat-bed or 40" container for transportation. The high performance combined with the relatively low price of the units is ideal for small and large enterprises with high expenditures for the disposal of specific waste.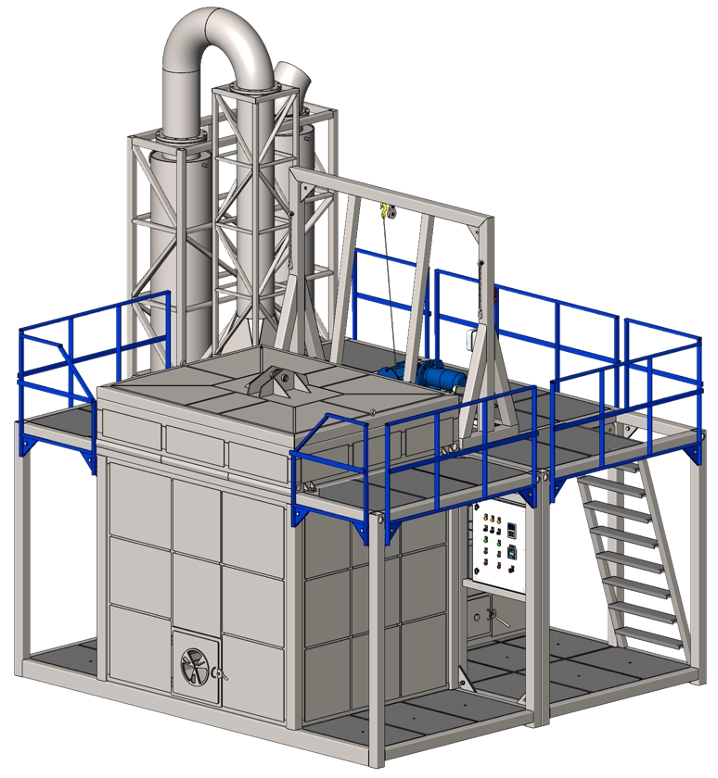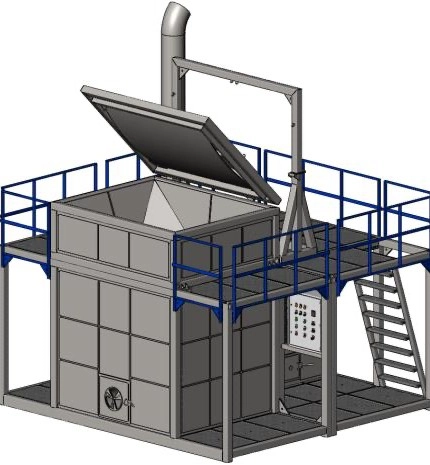 A distinctive feature of plasma-chemical incinerators of PDR-m series (mobile) is the increased mobility of installations. The relatively lower productivity in combination with the low cost of the units are ideal for small enterprises with a high cost item for specific waste.