Hydrodynamic Cavitation Nanomembrane and Ozone Technologies
The advanced innovative method of hydrodynamic vortex cavitation at the atomic-molecular level employs active ozonation and subsequent nanofiltration for urban wastewater treatment, disinfection and sterilization of hospital and medical wastewater, fecal wastes from livestock and agriculture, as well neutralization of hazardous and toxic industrial wastes.
Innovative methods for the treatment of urban wastewater,
wastewater containing faeces from animal husbandry and agriculture, neutralization of hazardous and toxic industrial waste.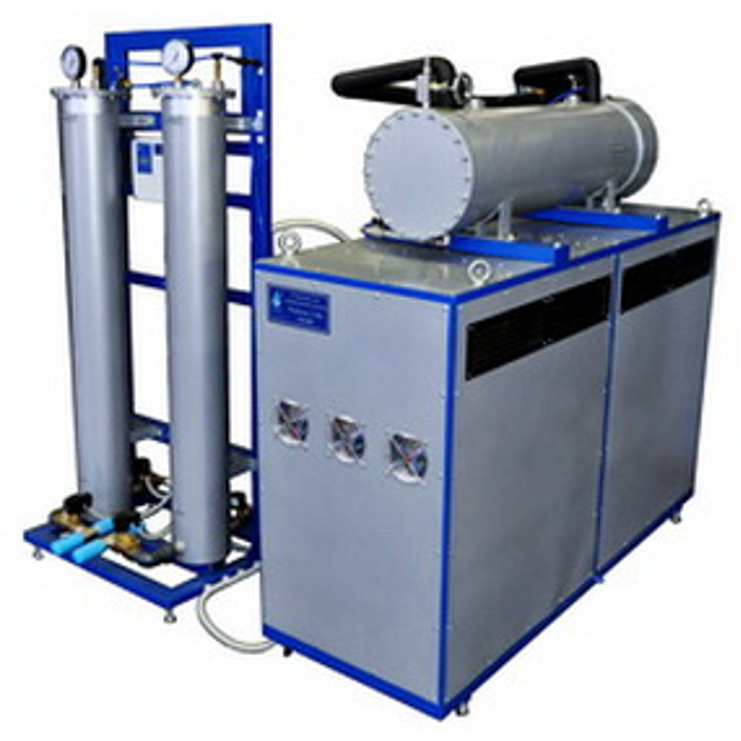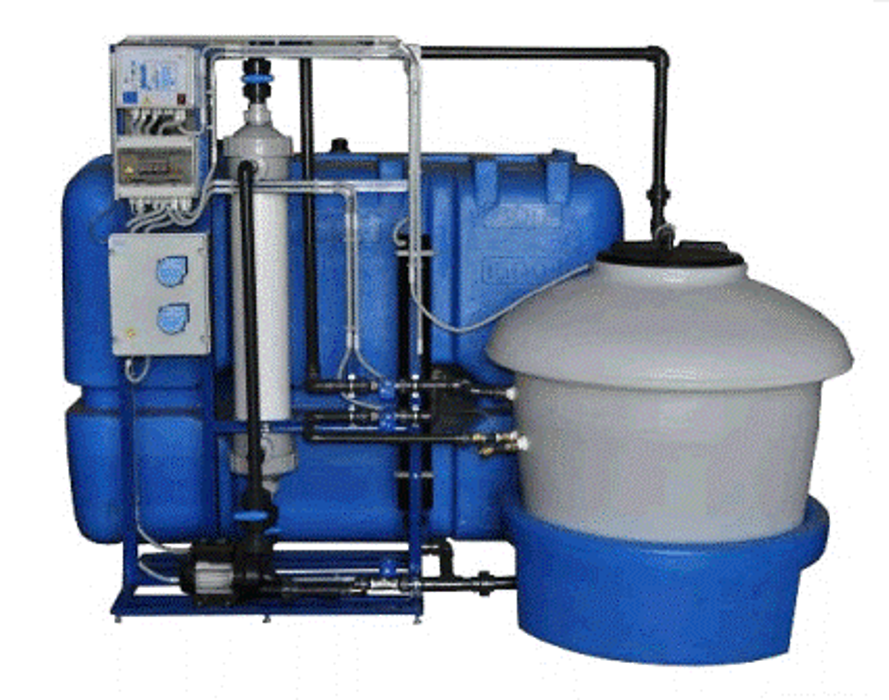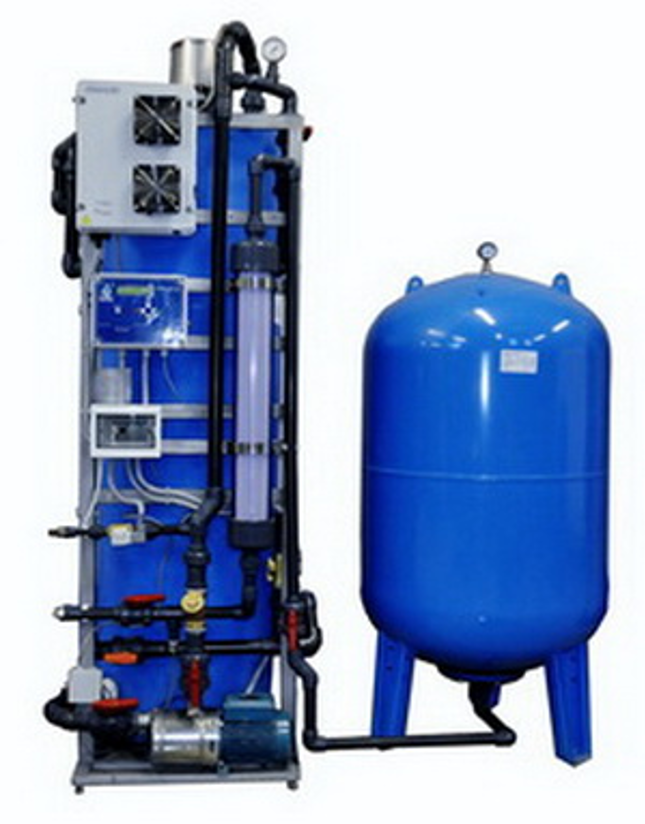 According to numerous laboratory studies and tests, intense ozonation can remove poisonous substances and the widest range of bacteria, viruses and fungal spores. Sterilization and treatment of waste, industrial, contaminated and infected water by the intense ozonation process before its discharge into water bodies is much more efficient and reliable if compared to ultraviolet sterilization and chlorine decontamination because the intense ozonation technology has stable performance even with very high water turbidity, and it completely eliminates unpleasant smell. Thus, ozone use is the most favourable method for water deodorization and discoloration.
The major issue which experts and consumers face is the microbiological safety of water: even water from underground sources may contain single cells of pathogenic microorganisms. However, the main threat is posed by the water recurrently contaminated with microbes due to the leakage of the water supply system. Disinfection is the water treatment method aimed to provide the destruction of pathogenic microorganisms, viruses, multi-resistant bacteria strains, and various types of fungi.
The currently available methods of drinking water treatment intended for disinfection are generally reagent and have a negative impact on the chemical structure and organoleptic properties of water due to a bactericidal effect. The most widespread chemical method of water disinfection is the use of chlorine, as chlorine is rather inexpensive and active; it enjoys a wide range of antimicrobial properties and is easily dosed and controlled. For water disinfection and purification, liquid chlorine, stored in a special tank under pressure, is used. Active-chlorine solutions – chlorinated lime, calcium hypochlorite and sodium hypochlorite, chloramines, chlorine dioxide, etc., as well as active chlorine obtained by electrolysis at the place of use – are also used.
From all the pathogenic microorganisms in water, cholera vibrio and pathogens of typhoid fever and dysentery are the most sensitive to chlorine. The paratyphoid and micrococcus pathogens are more resistant to it, and chlorine is almost ineffective against spore forms. Mycobacteria, enteroviruses, protozoan cysts, and Pseudomonas aeruginosa are relatively resistant to chlorine. Chlorination is least effective against viruses. According to recent studies, traditional water treatment schemes in many cases are not a barrier to viruses, protozoan cysts and lamblia penetrating drinking water.
Numerous researches and laboratory studies provide strong evidence that drinking water chlorination causes high levels of mutagenic activity and toxicity identified by various biological tests. Water being treated with chloroactive compounds, by-products with high genotoxicity are detected and identified: trihalogenomethanes, chlorophenols, p-nitrochlorobenzene, bromoform, etc. Cancerogenic properties have been identified for chloroform and carbon tetrachloride, belonging to 24 organohalogen compounds with long-term biological effects, and therefore they are regarded as extremely dangerous to humans. Recently, a new product with a profound mutagenic effect of 3-chloro-4 (dichloromethyl)-5-hydroxy-2(5H)-furanone and its geometric isomer has been detected and identified. Its concentration in drinking water in some cases can reach 30-60 ng/cm3. Another reason why chlorination cannot be considered a universal disinfection method is the existence of chlorine-resistant microflora: chlorine-resistant forms of E. coli, Pseudomonodaceae, Klebsiellae, Proteae, Legionella, which are potentially pathogenic and pathogenic microorganisms and are stable contaminants of urban water supply systems.
Even a small amount of residual chlorine after wastewater treatment is extremely toxic to the fauna of water bodies. Besides, the resulting organochlorine compounds contaminate drinking water: having high resistance, they cause pollution of rivers at considerable distances downstream as they get neutralized and are not removed during the water treatment. Chlorine can replace bromine and iodine. Chlorinated drinking water causes a significant loss of iodine necessary for the human body.
People who consume chlorinated water from the surface water intake are found prone to the thyroid gland and gastrointestinal tract related diseases, as well as cancer.
What concerns physical disinfection methods, the ultraviolet treatment method has become popular, as it is non-reagent and environmentally friendly. This treatment method has become competitive and comparable in cost to chlorination due to powerful radiation sources, new design solutions of ultraviolet equipment with sensitive sensors which make it possible to measure and control the radiation intensity in the water treated and provide automatic intensity control depending on the quality of the water processed. 
Since the 1980s, this technology for the purification and treatment of industrial and wastewater has been rapidly developed. The disinfecting effect of bactericidal ultraviolet rays is mainly due to photochemical reactions resulting in irreversible DNA damage. Alongside DNA, ultraviolet rays also affect other cell structures, in particular, RNA and cell membranes. The ultraviolet rays at the wavelength of 200-280 nm have the greatest effect on bacteria. The maximum bactericidal effect is observed at the wavelength of 250-260 nm. Mercury lamps of low and high pressure are used as UV radiation sources. However, the non-reagent method of ultraviolet disinfection has some disadvantages, for example, it requires a high degree of transparency of the source water, the absence of turbidity and suspensions. This method is also ineffective in the destruction of spore-forming bacteria, viruses, fungi, algae and mold. The maximum doses of water irradiation with UV sources at acceptable capacities of UV equipment are significantly lower than the levels required for the complete disinfection of spore forms. These doses for some spores and fungi are 100-300 mJ/cm2, while UV irradiators can provide 16 mJ/cm2 only. Besides, constant solarization and biofouling of the protective quartz shells of UV lamps is a significant limitation to the use of this water disinfection method. Mechanical cleaning requires the disassembly of the ultraviolet module and thus increases the total labor costs, while chemical cleaning requires additional staff skills and additional reagents. Moreover, it turned out that ultraviolet is not able to provide complete disinfection and this is proven by the occurrence of biofouling.
The hydrodynamic cavitation reactor developed in our laboratory outperforms in quality of disinfection and treatment of the most biohazardous and chemically polluted water. This method is easier to use and it is less energy- and labour-intensive if compared to the ultraviolet treatment and chlorination methods.
In our hydrodynamic cavitation reactor, we have combined the synergistic effect of the cavitation processes and active ozonation.
Ozone is the most effective oxidizing gas; it has unique disinfecting properties and it is perfect for water disinfection, water treatment and the food industry. Ozonization results in oxides and oxygen only, which subsequently dissolves in the atmosphere, thereby being the most environmentally friendly and safe, unlike other reagents.
Intense water ozonation processes make it possible:
• to remove metals and their compounds by the higher oxide forms; 




• to get rid of organic and inorganic compounds (nitrites, ammonia nitrates, chlorine, arsenic, petroleum products, phenols, etc.);




• to destroy all microorganisms and pathogens; 




• to eliminate unpleasant odors and tastes; 




• to get a saturated colour of water with complete absence of turbidity.



It was also found that the use of aqueous solutions and liquids treated by the reactor results in the significantly increased performance of the technological equipment and its elements in contact with water or processed liquids (heaters, boilers, pipelines, etc.) due to decreased corrosion, scale formation, etc. 
What concerns the disinfecting capacity, it is known that ozone is 15-20 times more effective than chlorine and it is 300-600 times more effective against spore forms of bacteria. Ozone possesses high virucidal activity and a high ability to destroy various types of pathogenic microorganisms.
During the cavitation treatment at the phase of rarefaction of the hydrodynamic acoustic wave, a cavity-shaped gap occurs in the liquid; this cavity is filled with the saturated vapor of the liquid, and a cavitation cavity is formed. Hydrodynamic acoustic cavitation is an effective means to concentrate the energy of a low-density sound wave into a high-energy density related to pulsations and collapse of cavitation bubbles (caverns).
In the compression phase, under the influence of increased pressure and surface tension forces, the cavity collapses, and the vapor condenses at the phase boundary. The gas dissolved in a liquid diffuses into the cavity through the walls and then undergoes strong adiabatic compression resulting in an instant nanoexplosion in the caverns and around them at the moment of rupture and subsequent collapse, and this thereby transforms the matter and the surrounding space into a hypercritical state. The pressure and temperature of the caverns reach significant values (up to 100 MPa and 1000°C). After the cavity collapses, a spherical shock wave propagates throughout the acoustic range rapidly attenuating in the space. A short-term break in atomic-molecular bonds occurs accompanied by the colossal energy release; a short-term supercritical state of matter arises creating a destructive environment for any microorganisms.
Influenced by the processes in the reactor, the structural network of atomic, hydrogen-oxygen bonds loosens, water molecules, solutions, and liquids gain an additional degree of freedom, and this allows ozone to easily penetrate the structure of the liquid being processed, and into the biological and chemical compounds and elements dissolved in it, thus intensifying oxidation and disinfection processes. A positive effect of this treatment is the assimilation of such water by the cells of living organisms and the accelerated removal of biological waste.
The structural modification of water in the reactor is similar to the phase transitions during ice melting (meltwater), the structural transformation of water in electrical discharges of thunderstorm showers, or the physical and chemical impact on water at great depths in rocks at high temperature at the initial stage of forming minerals. However, water treatment in a cavitation reactor is characterized by a much deeper transformation of its structure.
The water treated in the reactor changes its energy state, improves the assimilation by the body cells and has a beneficial effect on metabolic processes: it accelerates the elimination of toxins and promotes the most complete assimilation of nutrients. Structured water is a powerful biostimulant that boosts the production of endogenous hormones, stimulates the secretory function of the intestine, normalizes the metabolic processes, and oxidation-reduction potential of the cells. Besides, activated water containing active ions activates neuroreceptors of the endocrine glands, regulates insulin secretion, enhances the hypoglycemic effect of insulin, lowers blood sugar, counteracts fatty liver degeneration, reduces the level of fat in the body, and provides physiological regulation of carbohydrate metabolism.
Water treatment in a cavitation reactor and its active ozonation are accompanied by complex physical and chemical processes. Water hardness decreases, i.e. water softening occurs. Electrical conductivity is reduced. The colour decreases more than twice due to the decomposition of humic acid molecules into radicals that precipitate. The result of intense cavitation is almost complete neutralization of microbiological impurities in water: bacteria, spores, viruses. The non-reagent method of cavitation water treatment enables deep water purification while maintaining trace elements biologically important for the body (calcium, magnesium, potassium, fluorine, etc.). The purpose of any method of water purification is to convert the substances dissolved in water into insoluble or gaseous and then remove them. The process of cavitation treatment of wastewater and natural waters is combined with the processes of aeration and degassing. Aeration is the process of enrichment with oxygen, and degassing is the removal of dissolved gases.  
The effectiveness of the bactericidal action of a cavitation reactor depends on its intensity and exposure time. The efficiency of cavitation is affected by neither turbidity, nor the salt composition of water, nor the colour of the initial liquid. During the cavitation, colloids and particles which can contain bacteria are destroyed. Thus, pathogens are deprived of protection against other factors of cavitation effects: chemical, physical, electrical ones. Cavitation disinfection destroys even such strong mold spores as Asergoluss niger, which causes oncology; this type of mold spores is destroyed by neither ultraviolet nor ozone.
The unique ability of ozone to get decomposed with the formation of atomic oxygen makes it an ideal tool for the safe disinfection of liquids and gases. Ozone kills pathogenic bacteria by oxidation, partially turning into molecular oxygen.
The cavitation process combined with deep ozonation is intended to solve some very important issues related to the constantly increasing amounts of various low-concentrated, low-threshold, often undetectable substances, as well as microparticles (microplastics).
Intense cavitation ozonation of wastewater and livestock waste stimulates the formation of flakes and significantly increases the efficiency of coagulation. Molecules of dissolved organic compounds, completely oxidized by ozone, are more susceptible to coagulation. In some cases, it is possible to achieve effective coagulation of substances that are generally not capable of coagulation without treatment with ozone.
To use an ultrafiltration membrane to filter flakes formed by coagulation is the easiest and most reliable way to mechanically purify water after using a coagulant. This method is incomparably more effective than sedimentation, filtration or contact coagulation, since the size of the filtered particles in this case is much smaller. This is a fundamental difference between our technology and traditional purification methods, such as flotation, coagulation, filtration or ultrafiltration, etc. Any other purification method ceases to be effective when reused.
Technology Process Description
The water purification process has the following steps:
1) During the simultaneous process of hydrodynamic cavitation, coagulation and ozone oxidation, molecular bonds are broken and dissolved organic compounds are simultaneously oxygenated in a contact reactor. The reactor circulates the turbulent vortex flow.
2) Ultrafiltration of formed colloidal particles, flakes and microbubbles of gas together with adsorbed dissolved and colloidal organic and inorganic compounds.
Liquids treated (sewage water, livestock wastes) continuously circulate between the contact tank and the hydrodynamic reactor, where ozone is supplied during the pumping process. Further, the processed liquid is circulated for 10-15 minutes in the contact reactor accompanied by a continuous supply of ozone until complete oxidation resulting in the formation of insoluble colloidal particles. The growth of colloidal nanosized particles with a pronounced catalytic effect is accompanied by the capture and oxidation of the dissolved organic and inorganic impurities. The processed liquid is then transferred to an ultrafiltration nanosized membrane module, which traps all colloidal particles and microbubbles of gas containing the bulk of harmful adsorbed organic and inorganic compounds. Concentrated impurities that have not passed through the membrane are dumped into the sludge collecting tank, from which the settled water is returned to the contact reactor. The completely purified, safe sediment deposit in the sludge collecting tank passes through a filter press and is disposed of. The purified liquid that has passed through the membrane enters the reservoir of clean water, and then drains into the water body or is used to irrigate the fields. During the machine operation, water from the clean water tank is regularly pulsed through the ultrafiltration membrane and then returns to the sludge collecting tank.
The machine operates in an automatic mode and is controlled by a multifunctional control unit according to the liquid level sensors in each tank. In a standard design, the display information of the control unit is available in 5 languages.
Horizontal Portable Ozone Generator
This horizontal portable ozone generator is designed for:
Sterilizing air. It can reduce the dust and remove the odors in air.

Water purifier in water tanks through releasing ozone into the air. It can provide you a healthier living environment.

Car use to remove odors and mold by producing and releasing ozone into the air.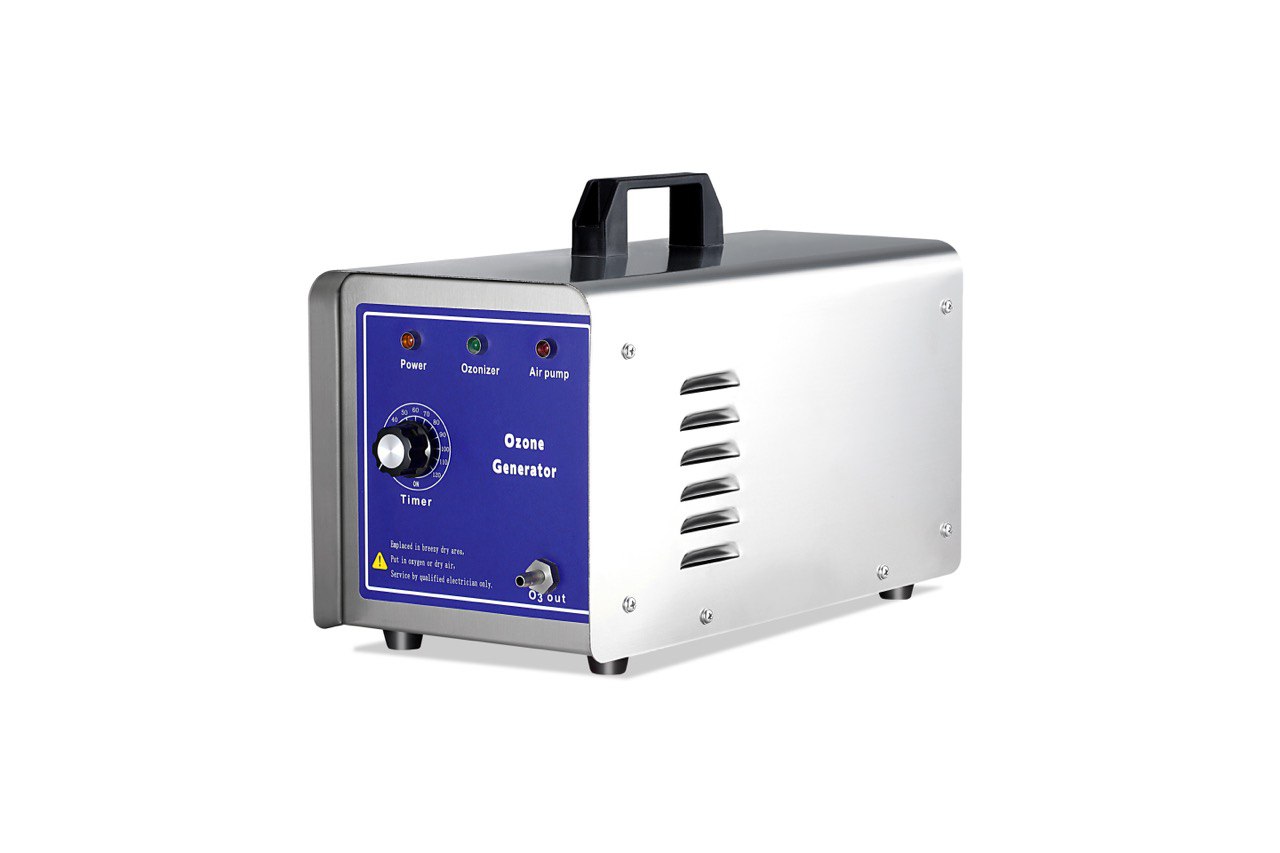 Features:
Small cuboid design, stable and placeable

High quality stainless steel figure, durable and protect inside

Adapted corona discharge technology, long service life

Light weight, portable to be taken

Easy to operate, save time and worry

Low energy comsuption, environmentally friendly

30 min timer, free from repeat settings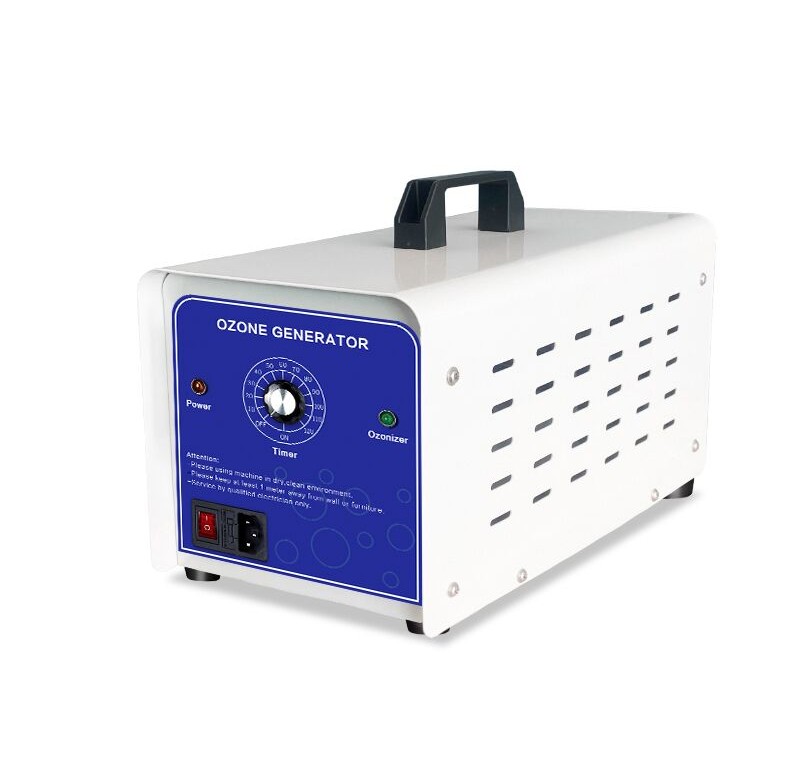 Features:
High quality stainless steel figure, durable and protect inside

Adapted high quality ceramic tube, long service life

Portable design, convenient to be taken

Easy to operate, save time and worry

Low energy comsuption, environmentally friendly
Commercial and Industrial
Air Feeding Ozone Generator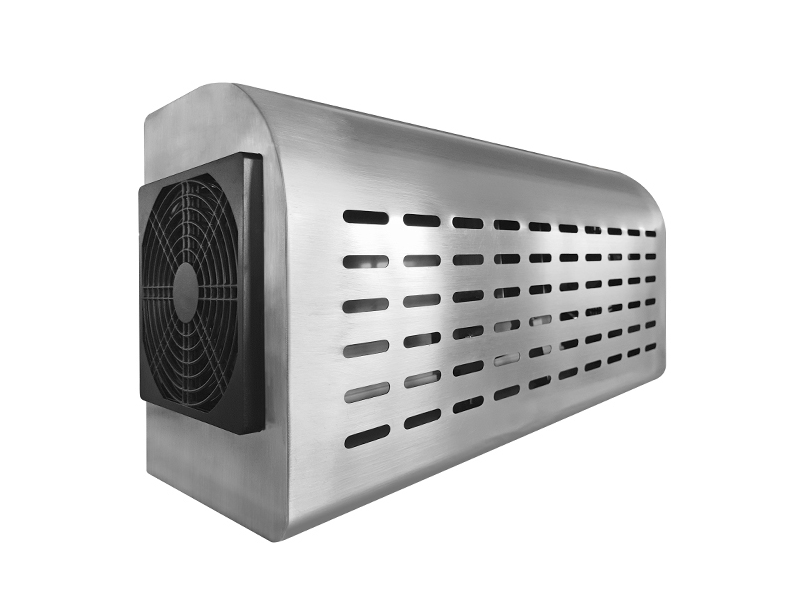 Features:
Wall-mounted design, save floor space
High quality stainless steel figure, durable and protect inside
Adapted high quality ceramic tube, long service life
Easy to be installed, save time and worry
Easy to operate, very convenient
Low energy comsuption, environmentally friendly
Air cooling technology, working stably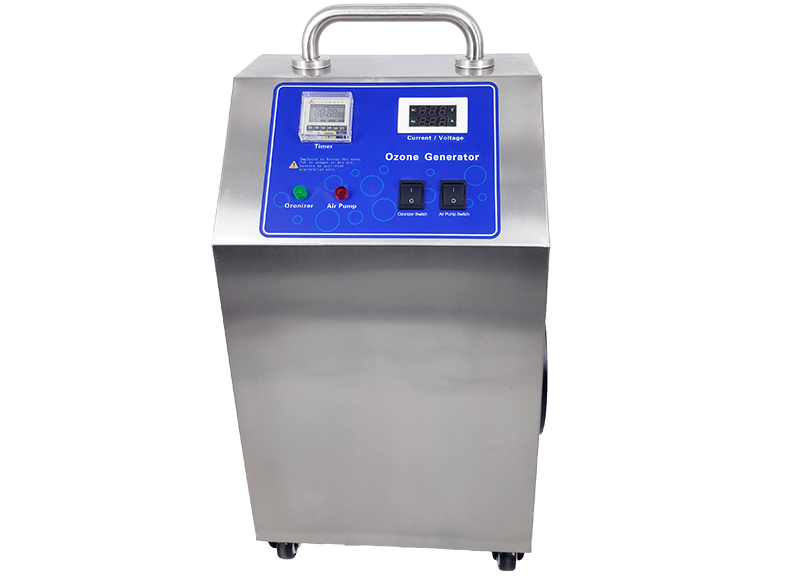 Features:
High quality stainless steel figure, durable and protect inside
Adapted corona discharge technology, long service life
Light weight, portable to be taken
Easy to operate, save time and worry
Low energy comsuption, environmentally friendly
2h manual timer, free from repeat settings